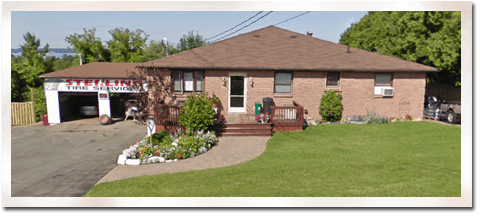 THE STERLING TIRE STORY
In the summer of 1978, Sterling Tire opened its doors. Operating out of a backyard shed in Georgina, Ontario, Sterling Tire sold used tires to local car dealerships needing to get their pre-owned cars road ready.
As word got out about a source for discount tires that delivered friendly and knowledgeable service, Sterling Tire began to see its retail business expand. This also prompted the company to start carrying new tires.
In the early 1990's, Sterling Tire outgrew the shed and moved to a house on Ley Blvd. The two-car garage became service bays, and the basement became the warehouse. More than just tires, the company was now also carrying a variety of aftermarket wheels. During the spring and fall it was not unusual to see dozens of parked cars lining the street. Much to the displeasure of neighbours.
In 2015, Sterling Tire began supplying wheels and tires to the Town of Georgina. This soon followed with local police and fire departments.
Quickly outgrowing the two car garage, the search was on for a new location that could support a growing business – and a growing town. In 2020, Sterling Tire opened its doors on a new five bay facility with a full showroom and lounge.
JOSH STEVENS
Graduating from college in 2002 and still exploring career options, Josh decided to take a part time summer job at Sterling Tire, a small tire shop operating out of a converted house. Josh loved cars and meeting people, so it seemed like the perfect fit. The plan was to work there for the summer, then look for a "real job" in the fall.
Part time soon became full time, and fall came and went. In 2004, the owner decided that retirement sounded more relaxing than working retail hours. So over dinner at a local restaurant, he presented Josh with the opportunity to buy Sterling Tire.
Upon purchasing Sterling Tire, Josh began carrying more inventory, hiring more staff, and continuing the tradition of delivering great customer service.
CURTIS HEAPS
A love of cars and engines meant Curtis appreciated the importance of wheels and tires. He also knew that spending his days doing carpentry was not a career he wanted. In 2010, he walked into Sterling Tire looking for a new set of tires. Meeting Josh for the first time, the two started talking about their shared love of cars. By the end of the conversation, Curtis was offered a job.
Since then, Curtis has immersed himself if the world of wheels and tires. He has received formal training and accreditation from the Specialty Equipment Market Association (SEMA) and has attended exclusive design and product development events. Curtis has become a respected industry expert in tire and wheel design. And he is always more than happy to share his wisdom with customers.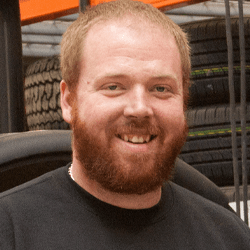 DARYN
NICHOLSON
DRAKE
SEDORE
WILL
DIMARCO
OWEN
DALE